In an industry were only recently ago experience and high technology are integrating in order to achieve the most efficient and accurate results, LEONICE excels in software creation, programming and goes one step further constantly investing in digital science and network connection tools creating and shaping the future trends of the paints market.
LEOMIX® Pro is the most complete and versatile tinting software program in the market that can ensure complete control and perfect performance endorsing advanced technical and commercial benefits.
LEOMIX® Pro uses the latest information technology and provides complete functionality and all the features required by paint manufacturers and shop owners, to ensure total support and excellent customer service, towards a fully integrated POS Tinting System.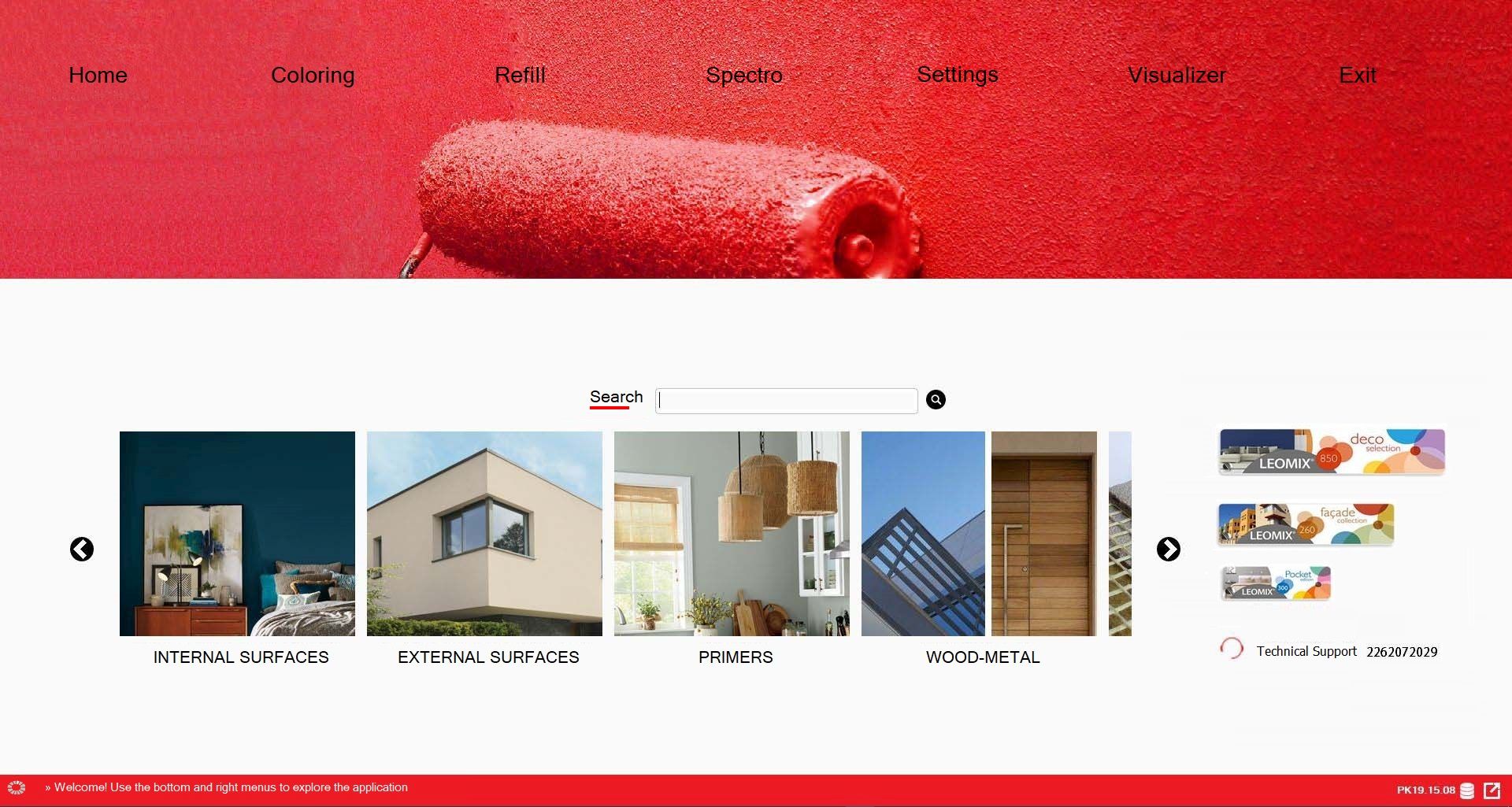 LEOMIX® Pro is fully compatible with every operational tinting machine and can import data from any tinting software in the market.
Moreover it is constantly updated in order to support new features, conform with any technological advances of the tinting machines and cooperate with any tinting software version in the paint industry.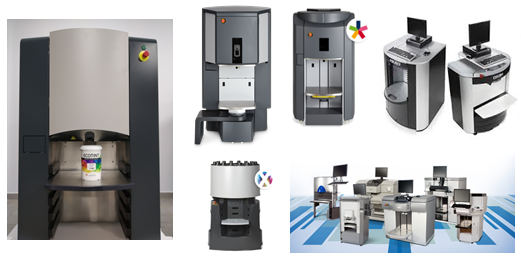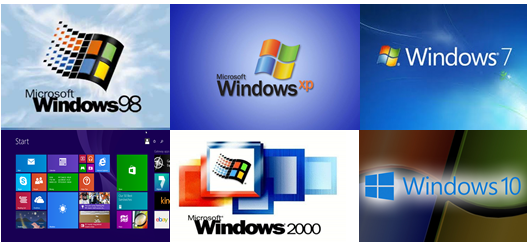 LEOMIX® Pro needs minimum system requirements and can perform without problems in previous and future Operational Systems versions.
Simply upgrade your tinting machine fleet software without any additional capital investment and without having to update your hardware or Operational System.
LEOMIX® Pro can be customized in functions, layout and pictures promoting your company and brand awareness of your products.
With your unique layout it will be presented to your partners and POS users as your personal and corporate software, distinguished from predefined and similar software existing in the field.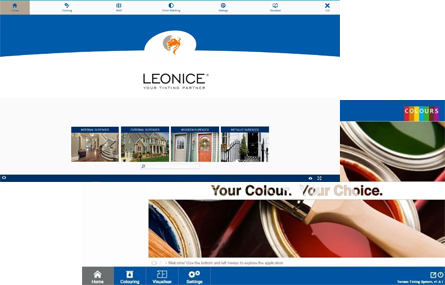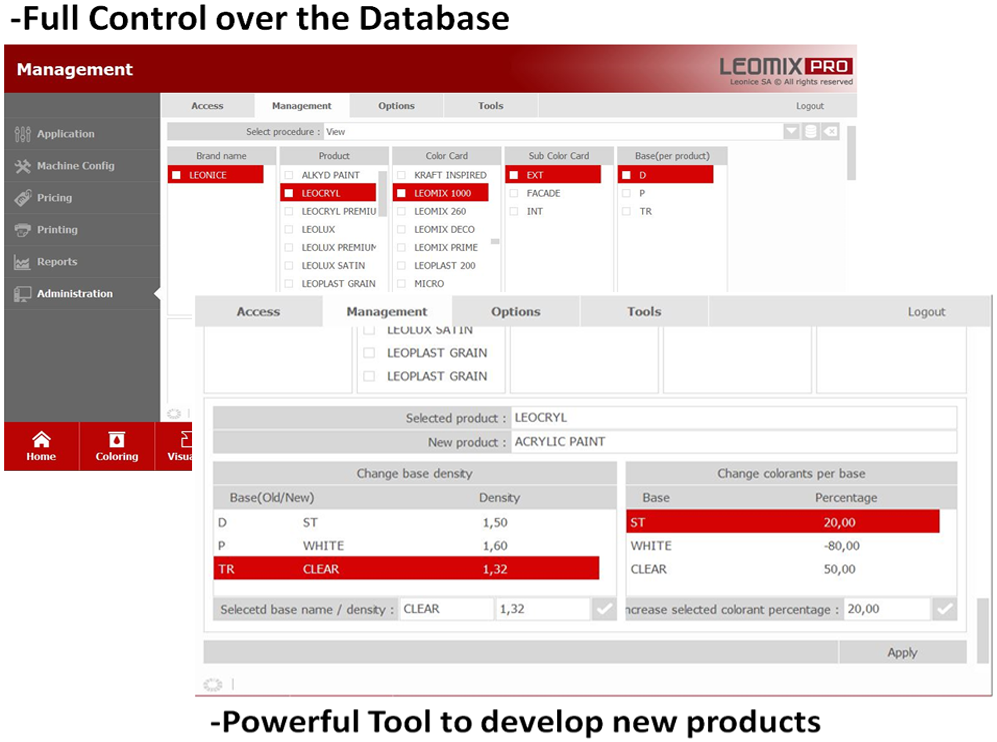 LEOMIX® Pro can integrate any database and can easily review, modify and update any formulas.
With D Manager you can be in total control of your products and recipes having the possibility to update current or add new ones.
LEOMIX® Pro can reflect the pricing strategy of your company offering several margin policy options, incorporating price differentiations with equations and parameters.
Additionally you can choose which function can be visible to your partners and clients and grant relevant access control.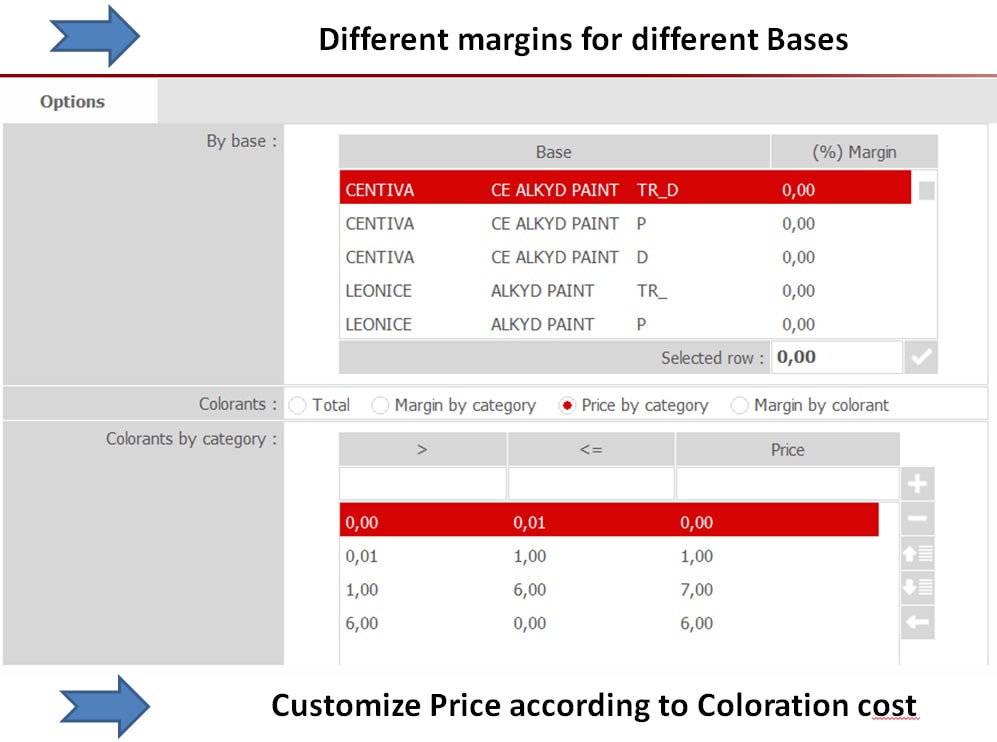 LEOMIX® Pro provides you with a detailed reporting with several options and customized data outputs.
Consolidated statistical reports from the POS can optimize sales policies and provide customer loyalty programs and actions according to the product buyers and users.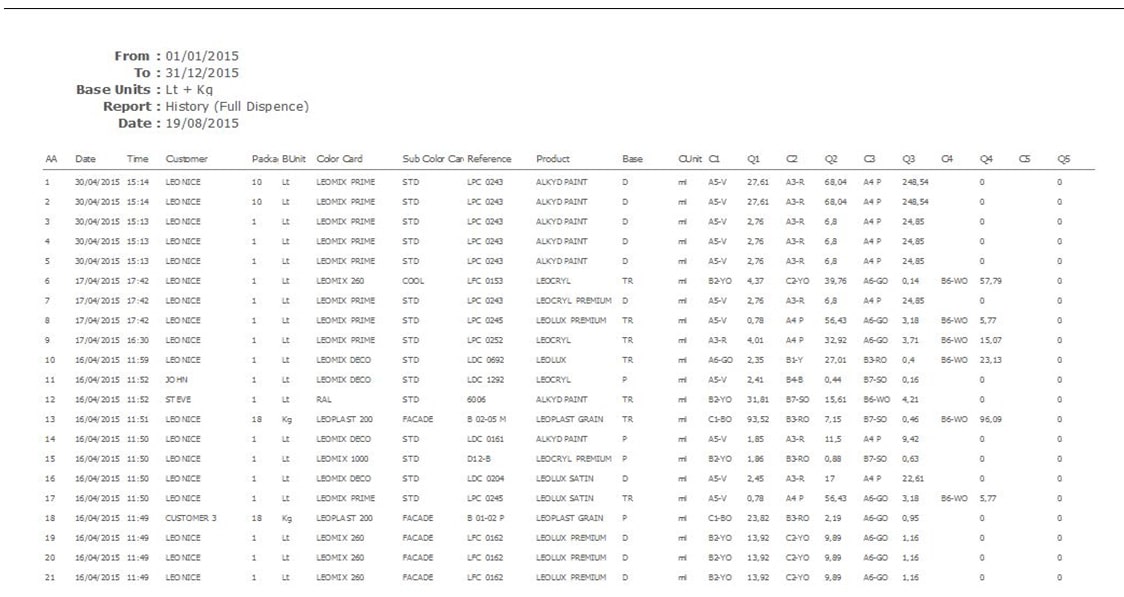 ✓ Free of charge software
✓ Fully customized layout and functions
✓ User Friendly-Clear functions-Easy to operate
✓ Compatible with any tinting machine and windows version
✓ Minimum operational system and hardware requirements
✓ Upgrades and Updates
✓ Includes an unlimited number of fandecks
✓ Spectrophotometers and peripherals supported
✓ Easy database transfer
✓ Complete ownership of the database
✓ Formula management
✓ Creation and Modification of new color collections
✓ Creation of new Base products
✓ Advanced Statistical Tools
✓ Pricing policy input
✓ Sales data management
✓ Online customer database management
✓ Upgrades and Updates
✓ Clients database
✓ Customer service (purchases/order history)
LEOMIX® PRO
The Operators POS Software of choice